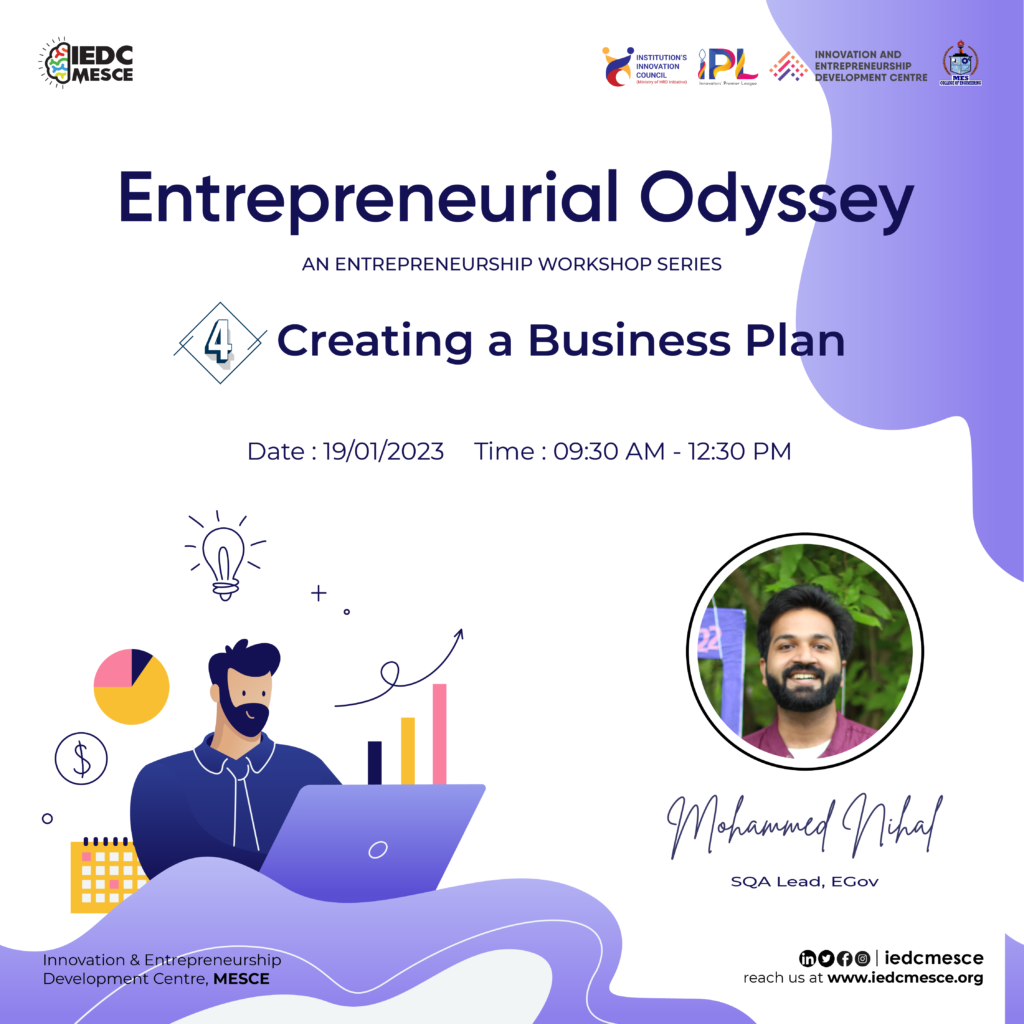 Event Report: Creating a Business Plan Workshop
Date: January 19th, 2023
Time: 09:30 AM – 12:30 PM
The "Creating a Business Plan" workshop was held as a part of the "Entrepreneurial
Odyssey" workshop series organized by the IEDC at MES College of Engineering in
association with Institution's Innovation Council. The workshop was conducted by Mr.
Mohammed Nihal, SQA Lead at EGov.
The workshop aimed to provide participants with the knowledge and skills necessary to create a
comprehensive business plan. The attendees were introduced to the various components of a
business plan and how to write them effectively.
The workshop began with an introduction by Mr. Nihal, who provided an overview of the topics
that would be covered throughout the session. He emphasized the importance of having a
well-written business plan for any successful business venture.
Mr. Nihal then provided an in-depth look at the various components of a business plan such as
the executive summary, market analysis, and financial projections. Attendees were provided with
practical examples and templates to help them understand how to write a business plan
effectively.
The attendees were given the opportunity to work on their own business plans during the
workshop, with Mr. Nihal providing guidance and feedback. He also shared his insights and
experience on how to create a business plan that is effective and accurate.
The workshop ended with a Q&A session where the attendees had the opportunity to ask any
questions they had and receive further guidance from Mr. Nihal.
Overall, the workshop was highly informative and provided valuable insights and guidance to the
participants. Attendees expressed their satisfaction with the event and reported that they have
gained good knowledge on how to create a comprehensive business plan.