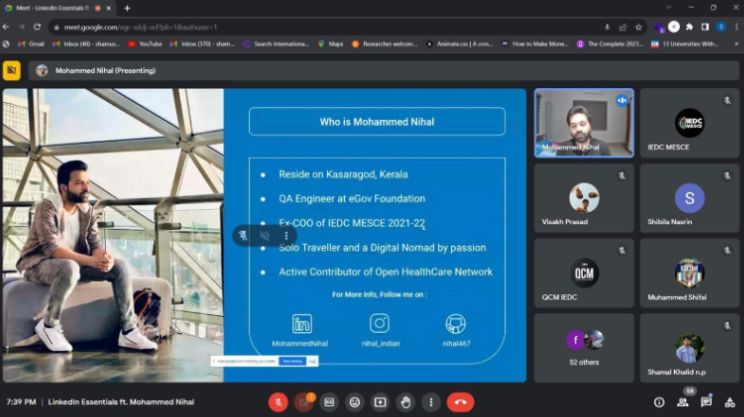 The Innovation and Entrepreneurship Development Centre (IEDC) of MES College of Engineering (MESCE) successfully conducted a Google Meet session titled, "LinkedIn Essentials: Crafting an Effective Profile" on September 16, 2023 at 7.30 pm. It was led by Mr.Mohammed Nihal. The session was aimed at educating attendees about the significance of maintaining a solid and compelling LinkedIn profile. More than 80 students showed up for the session.
The session commenced with a warm welcome from the IEDC team. Mr.Nihal provided a comprehensive overview of LinkedIn. The discussion covered the platform's significance as a hub for professional networking, job searching, and personal branding. Key statistics and trends relevant to LinkedIn were shared. Following the presentation, a Q&A session allowed attendees to ask specific questions related to profile optimization. He provided insightful answers and practical solutions to address the queries raised by the attendees. The session ended with a vote of thanks by Mr. Muhammad Shifal.
In conclusion, the session was a remarkable success, and the attendees lauded the session, expressing their appreciation for this informative and engaging content. It gave them valuable insights into optimizing their profile for professional success and motivated them to take proactive steps on this crucial platform.