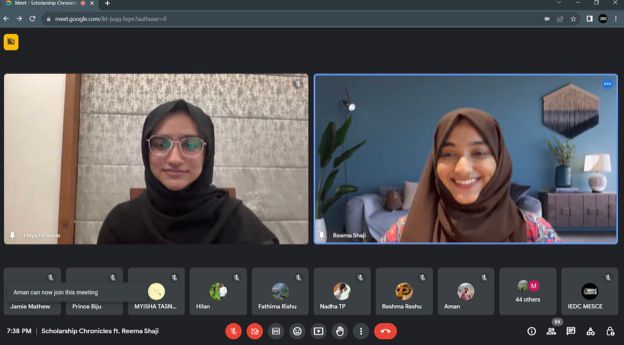 The Innovation and Entrepreneurship Development Centre (IEDC) of MES College of Engineering (MESCE) successfully conducted a Google Meet session titled "Scholarship Chronicles" on September 19, 2023, at 7.30 p.m. The session aimed to provide valuable insights into scholarship opportunities to students and was led by Ms.Reema Shaji, an esteemed speaker in this field. Over 50 students attended the session.
The session began with a warm welcome from the IEDC team outlining the importance of scholarships in a student's academic journey. Ms.Reema Shaji was introduced as the speaker, and her expertise in the field of scholarships was shared. The session highlighted understanding scholarships and the speaker provided a comprehensive overview of the application process, scholarship search strategies, and financial planning. The session ended with an interactive Q&A session, during which students had the opportunity to ask questions and seek clarifications from the speaker.
Overall, the session was a resounding success, and the participants left with a better understanding of scholarship opportunities. They also thanked the IEDC team for their efforts and Ms.Reema for guiding them. Such events continue to be crucial in fostering and supporting the academic goals of students at MESCE.