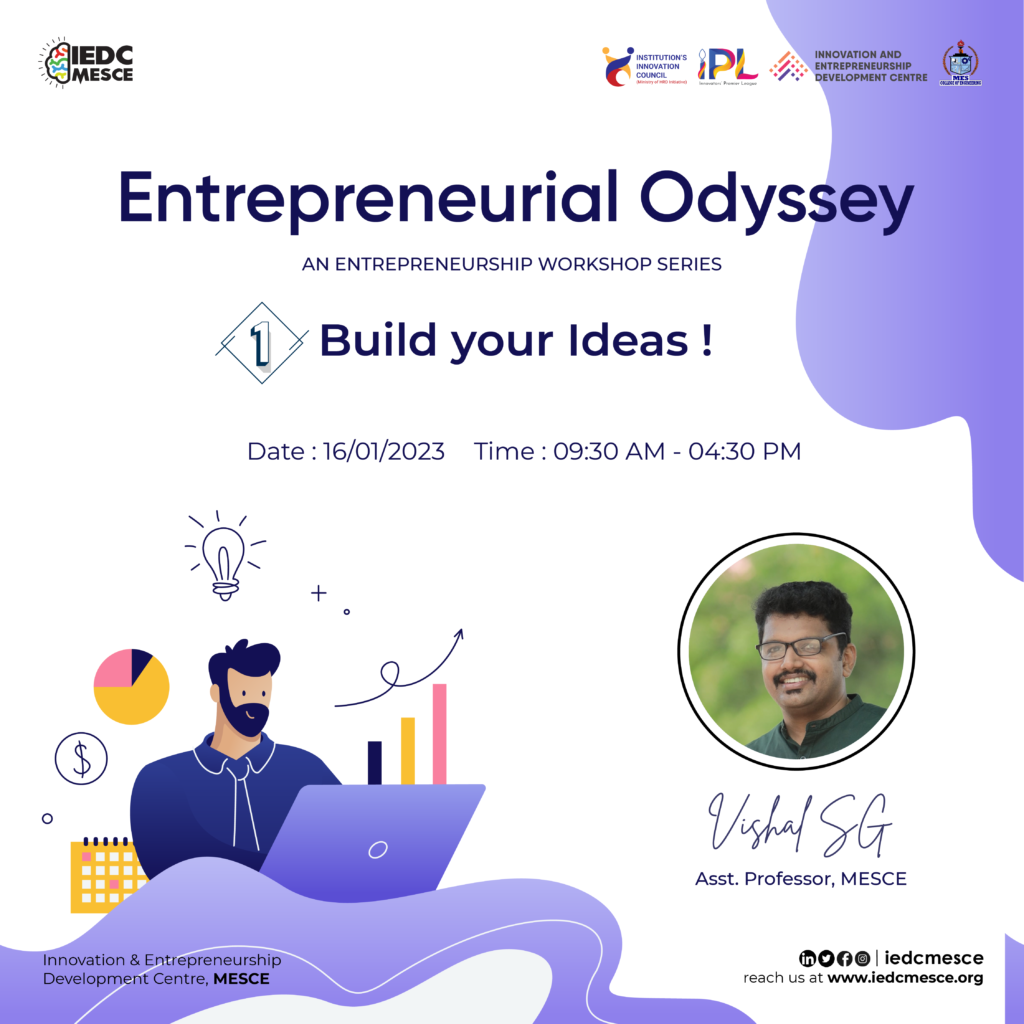 Event Report: "Build Your Ideas" Workshop
Date: January 16th, 2023
Time: 9:30 AM – 4:30 PM
The "Build Your Ideas" workshop was held as a part of the "Entrepreneurial Odyssey" event
series organized by the IEDC at MES College of Engineering in association with Institution's
Innovation Council. The workshop was conducted by Mr. Vishal SG, Assistant Professor at
MES College of Engineering.
The workshop aimed to help participants develop their ideas into successful business ventures. It
covered various topics such as idea generation, market research, and business model
development. The attendees were given the opportunity to present their ideas and receive
feedback from the speaker and other participants.
The workshop began with an introduction by Mr. Vishal, who provided an overview of the topics
that would be covered throughout the day. He then led the participants through a series of
exercises to help them generate and refine their ideas. The attendees were encouraged to think
outside the box and come up with unique and innovative ideas.
After the idea generation session, the participants were taught about the importance of market
research and how it can be used to validate their ideas. They were also provided with tips on how
to conduct market research and gather relevant data.
The final session of the workshop focused on business model development, where the attendees
were taught about different types of business models and how to choose the right one for their
idea. They were also provided with examples of successful business models and how to create a
business plan.
The workshop ended with a Q&A session where the attendees had the opportunity to ask any
questions they had and receive further guidance from Mr. Vishal. Overall, the workshop was
highly interactive and provided valuable insights and guidance to the participants.
Attendees expressed their satisfaction with the event and reported that they have gained good
knowledge on how to develop their ideas and turn them into successful business ventures.