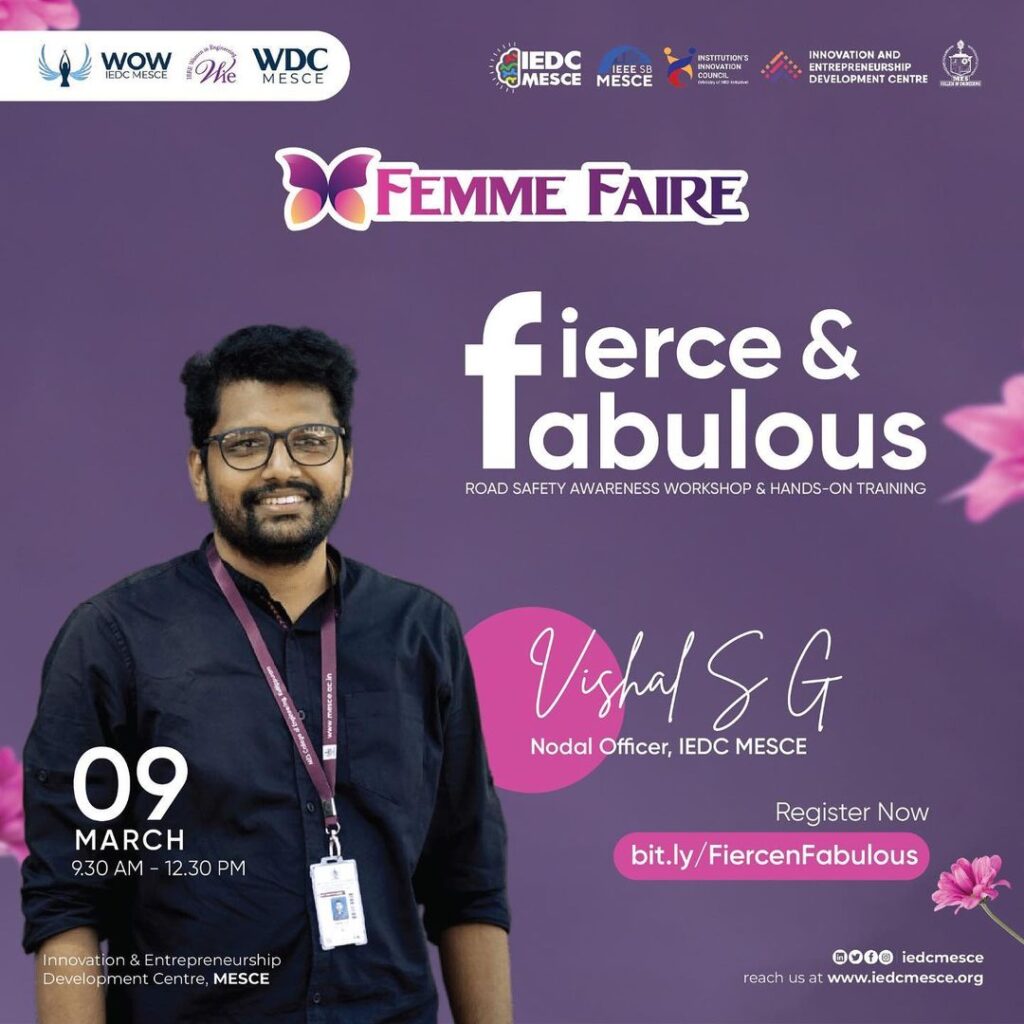 On March 9th 2023, IEDC MESCE conducted Femme Faire – International Womens Day Programme in collaboration with IEEE WIE SBAG MESCE and WDC MESCE. The event aimed to celebrate women's achievements, inspire and empower them. The program consisted of various activities, including workshops, games, panel discussions, and a Holi celebration.
The event started with an inaugural address by the principal, who emphasized the importance of gender equality and encouraged women to pursue their passions and dreams. After the inaugural address a workshop named Fierce and Fabulous was led by Mr. Vishal SG (Nodal Officer of IEDC MESCE). The workshop was mainly aimed to educate women about road safety awareness and their working principles. He then conducted a series of hands-on activities to teach participants how to avoid common accidents on the road.
For example, he demonstrated the correct way to wear a seatbelt, how to adjust side mirrors, and how to check tire pressure. Participants also had the opportunity to change the tire. Also reach them with important information about road signs, traffic rules etc. Overall the workshop was a great success and provided participants with valuable knowledge and skill related to road safety. The highlight of the event was the game session named Trail Blaze, where students were grouped into numbers and played the games. The students were enthusiastic and actively participated in the event. The games were designed to promote team building and problem solving skills. The game session was followed by cultural performances for women, where students showcased their talents in music, dance and poetry.
A panel discussion session was held where three accomplished women shared their different life experiences. Ms. Silu Sabith (Full time Traveller & Student Counsellor), Reema Shaji (CEO of IEDC MESCE), and Ms. Nida Mehar (CEO & founder of Zeepot Innovations) shared inspiring stories of their personal and professional struggles and successes.
The event ended with a Holi celebration named Lady Splash. The participants and volunteers enjoyed the festival with colors and music.
In total, 250 participants, including volunteers, attended Femme Faire. The program achieved its objectives of celebrating women's achievements, inspiring and empowering them. The participants appreciated the efforts of the organizers and expressed their gratitude for the valuable insights and experiences gained through the event.
Overall, Femme Faire was a resounding success, and it set a positive example for gender equality and women's empowerment.